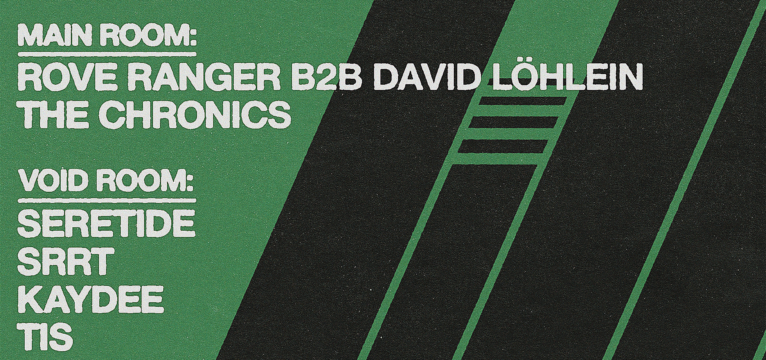 BIPOLAR DISORDER
ROVE RANGER b2b DAVID LÖHLEIN
THE CHRONICS
[Bipolar Disorder, RAW / Genève]
SERETIDE
[Bipolar Disorder / Newcastle]
SRRT
[Dissos Collective / Genève]
KAYDEE
[Dissos Collective / Genève]
TIS
[Dissos Collective / Genève]
TECHNO
▔▔▔▔▔▔▔▔▔▔▔▔▔
MAIN ROOM
▹ Rove Ranger b2b David Löhlein [Vision Ektase, Lehmann Club / Stuttgart]
https://soundcloud.com/itsroveranger
https://soundcloud.com/davidloehlein
▹ The Chronics [Bipolar Disorder, RAW / Genève]
https://soundcloud.com/thechronicsxiii
VOID ROOM
▹ Seretide [Bipolar Disorder / Newcastle]
https://soundcloud.com/seretide
▹ SRRT [Dissos Collective / Genève]
https://soundcloud.com/srrt
▹ Kaydee [Dissos Collective / Genève]
https://soundcloud.com/kaydee_music
▹ TIS [Dissos Collective / Genève]
https://soundcloud.com/t1smusic
▔▔▔▔▔▔▔▔▔▔▔▔▔
Bipolar Disorder & La Gravière are proud to present this stacked line-up !
Presenting the legendary Rove Ranger b2b David Löhlein bringing their infectious energy prepare yourselves for a proper sweat session. The Chronics will be supplying energy power and groove throughout his set in main room.
In the Void Room we have Seretide, SRRT, Kaydee & Tis, artists we've previously had and have blown us away with their unstoppable rhythms.
Don't miss this unforgettable night, see you on the floor.
▔▔▔▔▔▔▔▔▔▔▔▔▔
INFOS PRATIQUES
📆 Vendredi 21 avril
🕑 00h-06h
💰 15.- / 10.- avant 1h / Entrée libre Gravisphère
🔞 18 ans révolus
▔▔▔▔▔▔▔▔▔▔▔▔▔
La Gravière est membre du label WeCanDanceIt qui promeut l'égalité dans le milieu de la nuit et vise à rendre la vie nocturne accessible et agréable. Notre lieu n'accepte en aucun cas les comportements discriminatoires (racisme, sexisme, homophobie, validisme, transophobie,…) et violents (sexuels, physiques, émotionnels,…).
▔▔▔▔▔▔▔▔▔▔▔▔▔
Instagram
Facebook
Resident Advisor